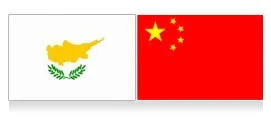 Ambassador: Mr. Zhao Yali
Address: 30 Archimidous Street, 2411 Engomi, Nicosia, Cyprus (P .O. Box 24531)
Tel: +357-22-352182 (Administrative Office)
Fax: +357-22-353530
Email: chinaemb_cy@mfa.gov.cn
Website:
http://cy.china-embassy.org/eng/

Consular Office: Tel: +357-22-352183

Political Office: Tel: +357-22-352184

Economic and Commercial Counselor's Office
Address: 17 Agapinoros Street, 1076 Nicosia, Cyprus
Mailing Address: P.O.Box 27088, 1641 Nicosia, Cyprus
Tel: +357-22-376126 (for Counselor)
+357-22-375252 (for Economic Secretary)
+357-22-375253 (for Commercial Secretary)
Fax: +357-22-376699
Email: shangwu@cytanet.com.cy
Website: http://cy.mofcom.gov.cn/

Public Holidays in Cyprus
New Year's Day, Epiphany, the Monday before the start of Lent (50 days before the Greek Eastern Orthodox Church's Easter), Greek National Day, Independence Day of Cyprus, Passion Sunday (Greek Eastern Orthodox Church), Easter Day (Catholic Church), Easter Sunday (Greek Eastern Orthodox Church), the second day of Easter Sunday (Greek Eastern Orthodox Church), International Labor Day, Whitsunday, Festival of the Virgin Mary, National Day of Cyprus, Independence Day of Greece, the Eve of Christmas, Christmas and Boxing Day. Moreover, citizens of Cyprus also needn't work on Saturday, Sunday and the afternoon of Wednesday. Employees enjoy paid vacations for about 20 days.

People: It has a population of 767,000 in 2002. The Greek minority makes up 85.2 percent and the Turkish minority accounts for 11.6 percent. The rest are Armenians, Latins and Malones.

Language: Greek, Turkish and English.

Religion: Orthodox Church embraced by Greek minority and Islam believed in by Turkish minority.

Geography: Situated in northeast of the Mediterranean Sea, Cyprus is the third largest island in the sea. It takes up the significant crossroad of maritime traffic of Asia, Africa and Europe. Although it is surrounded by sea, the coastline of the country is only 782 kilometers long. Its longest river is the Pedieos River.

Climate: It belongs to Subtropical Mediterranean Climate. Summer is dry and hot; winter is wet and warm.

Please contact
Embassy of Cyprus in China
if Cypriots are in distress there.

Related China Embassies in Europe:
China Embassy in Czech Republic
China Embassy in Denmark
China Embassy in Tallinn, Estonia