When to Go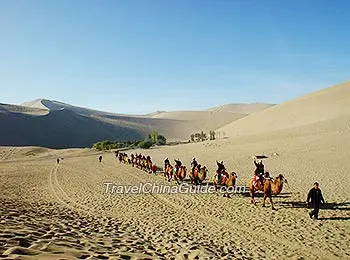 Modern Camel Team, Dunhuang, Gansu
The months of May and October are the best time to travel the Silk Road. The summer can be searingly hot. The winter is freezing. During May, the average temperature along the route is around 15C. The scenery is most beautiful during this month. The accumulated winter snow on the tableland is melting. The grass is turning green. Visitors can enjoy this enchanting scenery without suffering extreme temperatures.
In addition, visitor can travel to Silk Road during festivals. There are about 20 nationalities (ethnic groups) living along the Silk Road. If lucky, visitors may have the chance to witness or attend some of the colorful festivals and holidays of these various nationalities.
With the exception of the Han nationality, (which has the same festivals and holidays of China), each nationality celebrates their own festivals and holidays according to their different historical, religious and cultural background.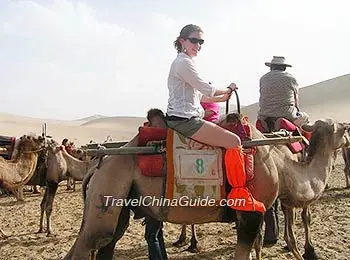 Tourist Riding on A Camel
Manchu has the same festivals with the Hans, although there are still some differences in respective celebrating styles.
Different nationalities may enjoy the same festivals as they might be influenced by the same religion. People from Bao'an, Kazak, Hui, Kergez, Tatar, Uigur, Ozbek, Dongxiang and Salar nationalities all believe in Islam. All Muslims celebrate Kaizhai Festival and Guerbang Festival.
Other major celebrations are the Mongolian Nadam Festival, the Kazak Nawurezi Festival, the Tibetan Dafozhanyang Festival (Festival to Worship the Buddha statues) and the Tatar Saban Festival.

What to Take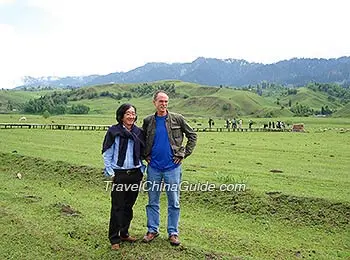 Tourists at Nalati Grassland, Yili, Xinjiang
Even during May and October, topography and climate along the Silk Road vary greatly. Some stretches of the road are high and cold, others low and dry. Take clothing for a wide range of temperatures. Comfortable shoes are a must. Personal items such as dental floss and feminine hygiene supplies must be taken. Such items cannot be bought along the route. Particularly at higher elevations, the sun's ultraviolet radiation can be very strong. Carry sun block and suntan oil to prevent sunburn. Also carry basic medical supplies, perhaps a small first aid kit plus medicines for ordinary ailments. Such medicines cannot be bought along the route.
However, do not burden your trip with more baggage than you can easily carry. It is best to travel fairly light but well prepared.